There are plenty reasons to go vinyl, and perhaps you have to deal with small spaces or just keep moving your collection from place to place, so having a best portable turntable can be actually better for your situation.
Portable turntables usually come with fewer features, count with less powerful built-in speakers and are not as decorative as the big ones. But, they do present certain advantages when it comes to their usability and improving the vinyl record player quality.
In this article, we will get you through the pros of owning a portable turntable, how to pick the right one to feel your music-related needs and recommend the 5 best portable turntable that you can find right now.
Top 5 Best Portable Turntable Review
1. Crosley CR8005D-BK – Best Cheap Portable Record Player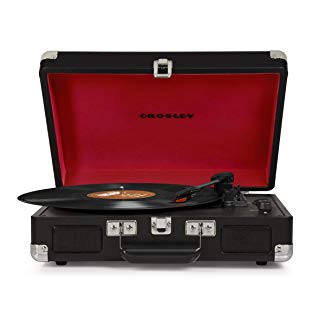 Crosley is a recognized brand when it comes to turntables, and this Crosley portable record player lives up to its name. The CR8005D-BK Cruiser comes in a modern suitcase design worked in plastic, with metal ends in the corners to protect the record player from incoming damage.
It is made to be really resistant and is ideal for traveling and you can actually choose from a dozen of stylish options for your suitcase turntable, from basic colors to special designs like chalkboard radio, Star Wars, and Disney related stamps.
About its usability, this model comes with a belt driven turntable with the three speeds required to play any record that you can get and adjustable pitch control.
It has a decent audio output with a below average quality using its built-in speakers making it good for "small room" environments.
Crosley cruiser portable turntable includes RCA and 35mm headphone input to be connected to your computer, external speaker, and headphones and is compatible with your mobile devices via Bluetooth.
Pros
Awesome looking and hip suitcase design
More of a dozen colors and style options
Quite resistant
Compatible with Bluetooth devices.
Cons
No vinyl record storage
Connects with 110V only, requires an adapter to work with 220V if you need
Overall, this is best portable from Crosley brand. With cheap price and the quality at acceptable level, this product suit for people who have low budget.
---
2. CMC Vinyl Record Player – Best Portable Record Player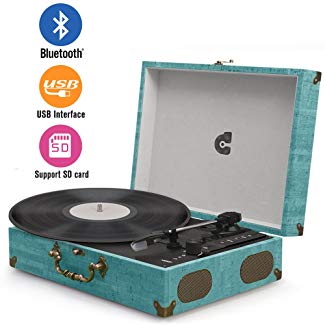 Presented with a vintage suitcase look, decorated with a bricked texture and available for you to get in brown, blue or pink, the CMC Portable covers every basic need you can have for a turntable.
The CMC Portable, works with a belt-driven turntable system, making it ideal to listen to your classic records while including ports to be compatible with your USB and SD devices.
The built-in speakers offer a far above quality when it comes to this type of record player and it also counts with RCA and 35mm headphone input for your private joy.
This model is considerably easy to carry around and has very detailed design and style making it something cool that can be combined with your personal style while on the move.
This model is always voted from best portable record player 2016 list until now.
Pros
Beautiful design
A variety of color options
Compatible with MP3 and SD devices
Headphone Jack and RCA input to play around with other speakers or just enjoy privately
Cons
It is quite delicate to handle
The needle arm isn't automatic
Here is actually a remarkable option if you are into vinyl as a matter of fashion, offers a nice sound quality for its size and price and is perfect if you are setting your collection in a small bedroom or such.
---
3. Rock 'N' Rolla Jr. – Best Briefcase Record Player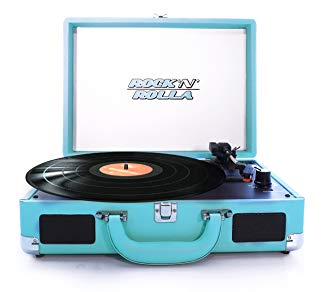 With an average but cool looking design, and 5 different color presentations, the Rock 'N' Rolla Jr. is a very nice option to hang out with your collection with colors that will make you stand out making it simple but stylish.
The Rock 'N' Rolla Jr. Comes with a belt-driven turntable able to play all 33, 48, and 75 RPM speeds for your records, USB and SD ports, and Bluetooth connection for your digital devices.
But, what makes this model stand up is that it is the only one we could find with such features that also includes a hidden CD player compatible with everything up to CD-R.
Besides, with this, you can save all your CD and Vinyl record collection into mp3 files saving up your collection for special occasions and saving yourself some maintenance work.
This model exceeds if you happen to be collecting both CD and Vinyl formats or want to operate with both and convert some of those into mp3 files.
It also counts with a good sound quality for its size and has nice power from the inner speakers. It's the reason this model is best portable turntable with speakers in this list.
Pros
Good sound quality.
Unique as it has a CD player besides the digital device compatibility
Quite resistant materials, good for outside environments
Cons
Nice design but kind of childish
Electric energy cord is short so you have to keep it near the socket
---
4. Victrola VSC-550BT-P4 – Best Portable Record Player Bluetooth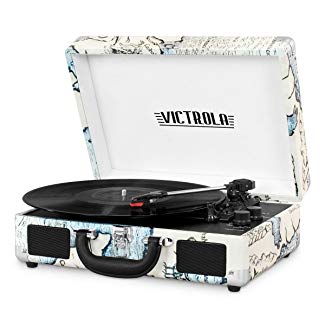 With the best designs among all we found, the Victrola portable record player comes in more of a dozen cool design options with awesome styles.
It is manufactured with durable and strong plastic materials that will resist traveling and hanging out forever. It also comes with chrome accents and a textured exterior while keeping things simple to avoid creating extra weight.
With the Victrola Vintage, you will enjoy a full playability for all your vinyl records with a 3-speed turntable and Bluetooth connectivity of up to 33 feet away for your digital devices and Bluetooth external speaker.
Its built-in speakers work pretty well and you can also connect via RCA-aux or 35mm headphone jack inputs if needed.
Pros
Best designs ever
More than a dozen of design options to choose
Good sound quality
Compatible with Bluetooth devices with a wide range
Cons
No cassette or CD compatibility
Bluetooth goes in one way, not compatible with BT external speakers
This is overall the most stylish option of our list and it offers an overall nice and clean sound quality. On the downside, Victrola portable bluetooth turntable lacks some features
that others offer like USB/SD ports, recording feature, and CD player.
---
5. Pyle -Brown (PVTTBT9BR) – Best Vintage Portable Record Player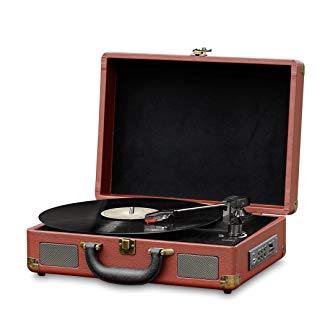 Presented in a classic suitcase box design, this model combines the sound of the classic record players with the cool features that are offered by new technologies.
You can make use of its built-in speakers to listen to your music from MP3, USB, SD and digital devices as it has the appropriate ports and Bluetooth connection available.
This model is very resistant and pays in durability and features what it lacks in design options. With it, you can actually record your vinyl into mp3 format, the speakers are quite decent for the space they take and it includes external speaker connection and 35mm aux for your headphones.
This is overall a good model to consider, especially if you'd like to record back your collection into digital formats to avoid using the vinyl records all the time.
Things we liked
Compatible with digital devices
Counts with several sound input options.
Offers above average resistance, ideal for traveling.
Things we didn't like
No other color options besides brown
The turntable isn't fully automatic
It comes in an under average price and offers above average options and features and an excellent sound quality that would surprise you. So keep this in mind if you are not requiring the stylish looks that other devices offer.
Pros
Compatible with digital devices
Counts with several sound input options.
Offers above average resistance, ideal for traveling.
Cons
No other color options besides brown
The turntable isn't fully automatic
It comes in an under average price and offers above average options and features and an excellent sound quality that would surprise you. So keep this in mind if you are not requiring the stylish looks that other devices offer.
How To Choose Best Portable Turntable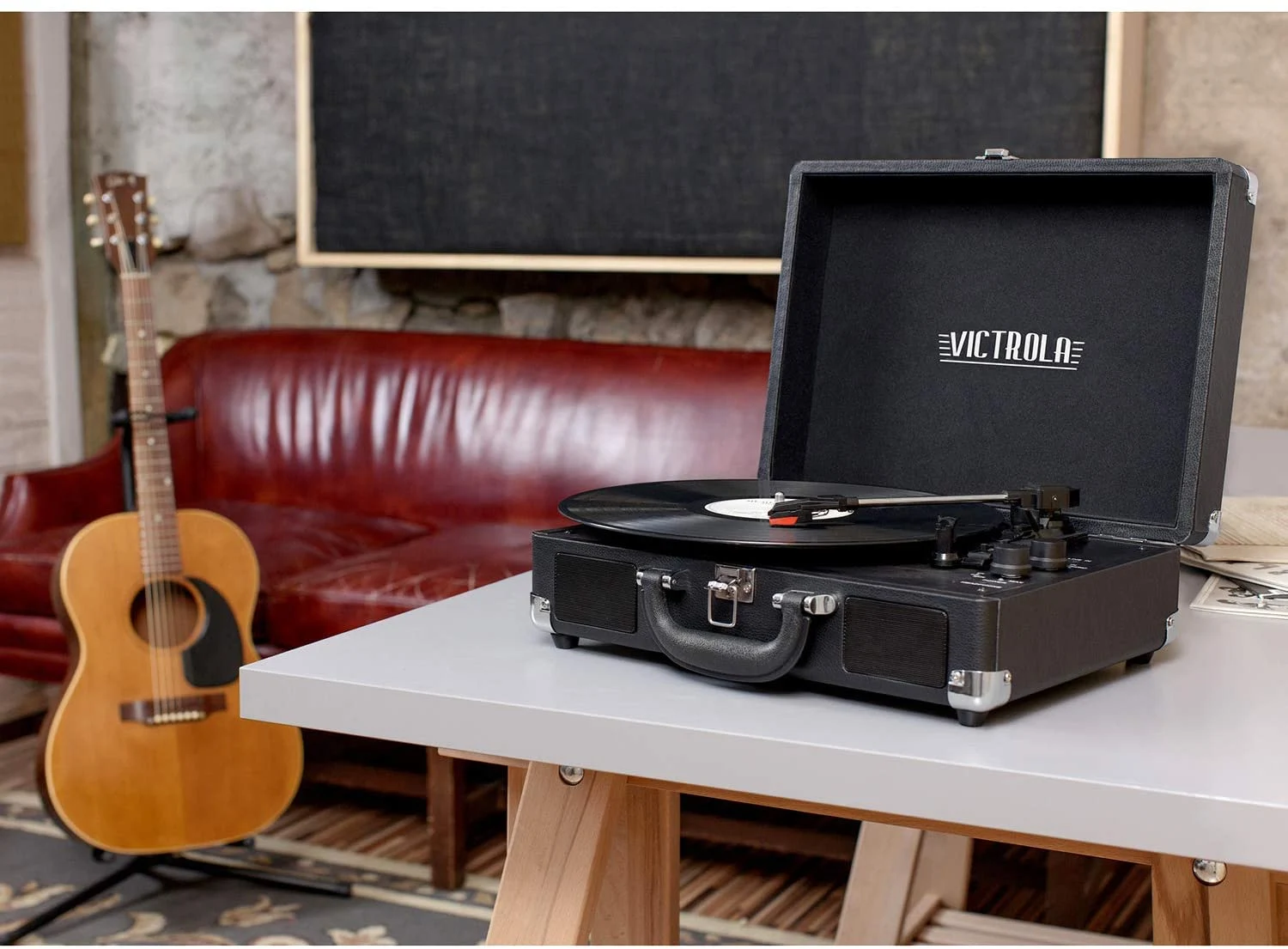 Advantages of Portable Record Player
If you are a music collector on the move or just travel a lot and want to keep your treasures nearby, getting a portable record player is the best idea possible.
On the other hand, portable turntables are commonly used by street and walking DJ's since their boom in 2016 which made things easier for them to perform while moving.
If you ask us about the advantages, we would say that:
They are actually cheaper than a complete system.
Work ideally in small spaces since the speakers are less strong than external ones.
Can be a removable central piece of your audio system.
You can carry your music anywhere.
Some will have alternative power solutions like batteries to keep with you.
On the down side, portable means that you will not get the warm and cool sound output you get with a home-set record player system.
Additionally, you have to be sure about exposing your precious collection to the outer environment, and keep in mind that the heat, humidity, and dust will make your vinyl records require some extra care.
Useful Guide to Buy Portable Turntable
Portable functions and tech

When searching for your portable turntable you have to be sure of what you need from it.
The first thing to understand is that your portable record player is not going to include as much sound related features or has as much power as a home deck model and that in order to be "portable" it sacrifices a lot when it comes to sound quality.
This doesn't mean you won't find a good sound. You can still get close to what a full system turntable has with some luck, that's what we are here for.
If you are a collector you don't need to have too much speaker power, since most of the time you will be listening to your music in small spaces and it will be better to have a belt driven device which reduces the shock from the movement of the disc.
But if you want your portable record player for scratching, there are other needs, walking DJ's work in open or loud spaces so you need the best speakers possible and longer battery life.
Also for DJ's is better to use central rotator turntables, gives extra noise to the sound and doesn't break the scratching. If you want to get a DJ turntable, things are a bit different so make sure to know how to choose the right scratching turntable.
Another thing to consider is the extra features, such as mp3, Bluetooth, and USB compatibility to connect your music with newer formats.
Some portable devices also have CD and even Cassette players for other pieces of your music collection.
Material

Differently, from home set record players, you will prefer to avoid buying a wooden device if you travel a lot.
For set-system turntables wood is the best material possible since it works as a natural shock absorber, reducing the noise that darkens the sound output and giving it that warm feeling that makes vinyl records so desirable.
But if you are on the move, a wooden record player will be more likely to take damage and have a shorter lifespan.
Therefore, you should try to keep up with resistant plastic and metal lined turntables when you go portable, or if you want to keep that wooden aided effect, then be extra careful with your device.
Budget
When it comes to finding the best sounding portable record player possible the budget isn't such a big trouble, you can find really good options with awesome reviews, quality and some cool tech from anywhere between 40$ and 200$.
Maintenance
Just like any other turntable, you will have to change your needle every once in a while. Make sure that you buy a portable vinyl record player compatible with universal needles. For this, diamond needles are recommended as they have a lifespan of about 12000 hours of music.
Besides the regular maintenance, having your collection and player exposed means extra maintenance, make sure to clean your disks often than you would if otherwise.
When departing in your vinyl collector journey, make sure to know as much as you can about your vinyl records maintenance. Also make sure to protect your portable turntable properly, maintain its color and heal every wound if you buy a wooden one and replace external pieces as needed if you get a plastic or metal furbished.
What is The Best Portable Turntable ?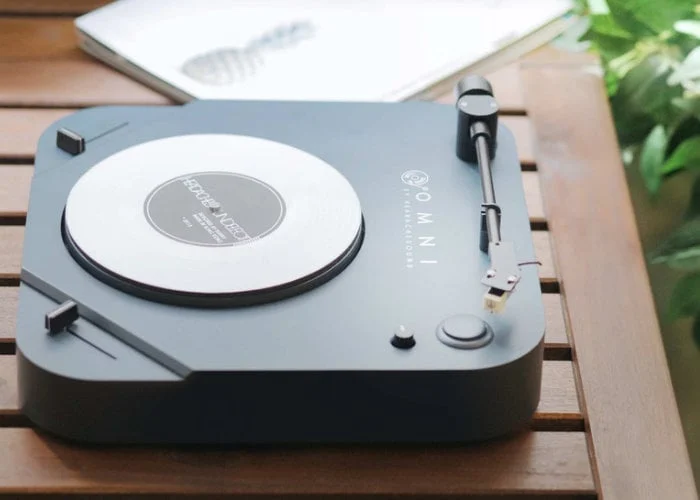 When looking for a portable record player as a music collector, you will need to understand that there are a few aspects in which you can't demand these devices as much as you would to a full system.
The hard part here is to find a portable turntable that accomplishes to fulfill your needs when it comes to the sounds quality and power while offering other features that may improve your experience.
Based on our expertise we decided to declare the CMC Portable as our winner, making it the best portable turntable of our list.
The reason is simple while offering an above average sound quality, it doesn't sacrifice the design options or other features such as those extra USB/SD ports.
On the other hand, if you feel the need of being able to record your vinyl into mp3, the best option for you would be the Rock 'N' Rolla Jr. which goes cool with that feature and allows you to keep up with your CD collection as well.