There is a huge retro trend happening around us lately, not only vinyl records, but those old cassette records and vintage portable cassette player are every day more visible, mostly because the feeling they bring to the user, the sound quality and of course their style.
In this article, we will guide you through the path of identifying and finding the best portable cassette player you can get and suggest you some cool options to make this choice easier.
Top 10 Best Portable Cassette Player Reviews
1. Jaras JJ-2016 – Best Cheap Portable Cassette Player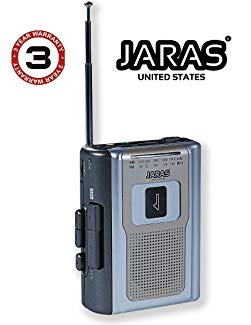 With a very simple but techy design and a size that is barely bigger than the cassette itself, this Walkman includes a Cassette playback to get you through hours of music and AM/FM radio tuning to give you all that airwaves have to offer.
It includes an FM antenna to increase its power range, radio and audio recording with its inner microphone to keep those never-coming-back moments on tape and also counts with a small speaker that has power enough to create some environment if you are not a headphone jack fan.
The Jaras JJ-2016 Limited Edition has a nice battery life using two AA batteries for about 20 hours of music and can also be played while plugged to a power cord.
This device is also backed up with a long term 3-year warranty and alway is voted in best portable cassette player 2016 list until now.
Pros
Extremely small with some nice features which make it unique
Simple tape mechanics, easy to use.
Excellent AM reception with a Bandwidth tuner which grants station's sound fidelity.
Plays for hours with two AA batteries.
3-Years Direct Warranty
Cons
AC power cord is not included.
FM tuner can turn noisy.
This model is one of the best options that you will find on the market if you run with a low-bucket.
---
2. ION Tape Express Plus – Best Portable Cassette Tape Player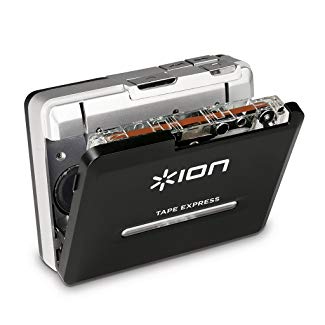 With a more actualized goal, this device is presented in a modern black model that gives it a cool look. It isn't meant to be just for private listening. Its main feature is the possibility to convert your tape records and recordings into digital mp3 files.
With a really decent audio output, really easy to use recording and converting features and a really low price, the ION tape express portable cassette to mp3 player is a good choice if you'd like to keep your collection intact by converting your music to newer formats.
When it comes to energy, it works for an average of 15 hours and can be charged by plugging into a mini-USB power cord with your computer.
This model comes with the EZ Tape Converter software that will guide you step by step into converting your tapes to mp3 or iTunes, USB cable, user guide, and a nice set of headphones for personal use.
Pros
Decent audio output, quite powerful with the included headphone gear
Wonderful feature of converting your tapes into digital files
Easy to use converting software.
Really good price-quality balance.
Cassette tape loop feature to reproduce both sides of the tape in one go.
Cons
No auto-stop function.
Made of plastic and really delicate, not meant for the outside world.
Overall, if you are looking a pocket device to listen for your car, this model will be best portable cassette player for car. You shouldn't miss this on your car.
---
3. Sony WM-FX195 – Best Sony Portable Cassette Player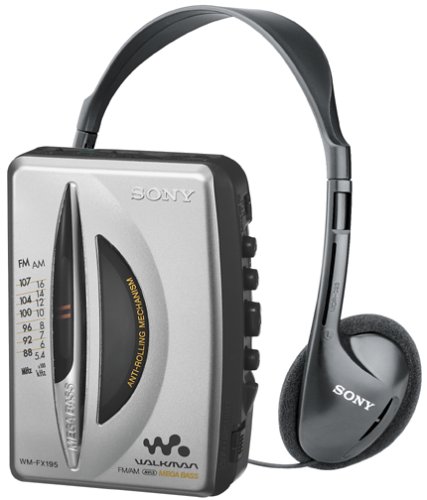 Sony, well there is plenty to say since Sony was the king of the Walkman industry during the whole boom in the 80's.
This model comes with a nice and refreshing 90's design, includes an AM/FM stereo tuner with an extra-large tuning scale that makes the tuning more precise and easy.
With a Wide-band AM tuner that counts with a powerful frequency of up to 1710 kHz and the feature to switch between local and distant (DX) FM, the Sony WM-FX195 guarantees an awesome radio signal.
About the Cassette player, it counts with a high-quality sound output with features to enrich the bass and volume experience.
Also, it includes a cool set of Sony basic headphones, an Anti-rolling mechanism that smooth down the sound and automatic shut off feature in playback mode. It's the reason why this model is the best portable cassette player with speaker that we suggest for you.
When it comes to energy, this model excels, with two AA batteries you will enjoy of up to 25 hours of tape playing and up to 55 of radio reception.
Things we liked
Awesome quality sound
Almost no tape playing noise with the anti-rolling mechanism.
Automatic volume limiter and mega bass systems to improve quality based on the style.
Long battery life.
Things we didn't like
Quite expensive.
No extra features, recorder or anything like that.
Pros
Awesome quality sound
Almost no tape playing noise with the anti-rolling mechanism.
Automatic volume limiter and mega bass systems to improve quality based on the style.
Long battery life.
Cons
Quite expensive.
No extra features, recorder or anything like that.
Summary, Sony WM-FX195 will guarantee all function that you want with high quality. So, we recommend you to this model if you don't mind about the budget.
---
4. Jensen Stereo Cassette Player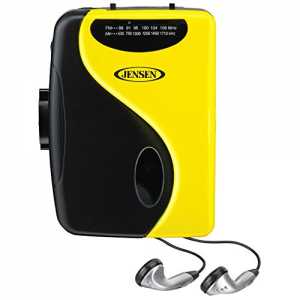 Are you looking for a decent and a portable unit for listening while relaxing, traveling, walking, or jogging? If yes, the Jensen SCR-68B Portable Stereo Cassette Player might be perfect for you. It comes in a slim and durable plastic construction and is very light in weight, so you can carry it with you anywhere you wish.
One of the things I love about this product is the inbuilt AM/FM tuner that allows you to select from a wide variety of music, talk and radio programming. It also comes with an auto stop function as well as the Mega Bass feature for rich and quality sound production, so you can enjoy crisp and powerful sound as you get lost in your vintage cassette tape collections and mixes.
The player has no inbuilt speakers but comes with a pair of high-quality stereo earbuds, to listen to cassette tapes, stereo music, or your favorite radio programs on the go.
The device is powered by 2 AA batteries and can also be powered by an AC adaptor; this makes it ideal for both outdoor and indoor use. There is also an inclusion of a belt clip and carry case that helps you to hold the device securely for hands-free listening,  so it won't fall or drop as you move.
Pros
AM/FM radio included (good radio reception)
Mega bass for quality highs and lows
Stereo earbuds included
Comes with a belt clip and carry case
Affordable
Cons
No record or rewind function
No LCD screen
If you want an affordable, portable cassette player with AM/FM radio, then the Jensen SCR-68B is for you! It is one of the best selling portable cassette players around and might be all you need to enjoy your old memory-inducing mix-tapes.
---
5. Reshow Cassette Player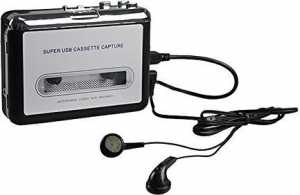 The Reshow Portable Cassette Player is one of the best cassette players to carry along with you anywhere, any day. It comes in a beautiful Walkman design which is one of its main selling points. The device is powered by 2 AA batteries and comes complete with converter software installation, USB power cable, and a headphone.
Another feature that catches my fancy is its user-friendly tape to MP3 converter that allows you to convert your old cassettes to CDs or MP3 format with a USB cord. With this, you can recapture the good old days by converting your favorite mixtapes and transfer them into your smartphones, Mp3 player, iPods, CDs for your portable CD player and other mobile devices.
The player also works with a standard 3.5mm jack, so you can use it with your earbuds, headphones or with your car audio system.
Pros
Beautiful Walkman appearance
Comes with headphone, USB power cord, converter software and user's guide
Easy to use
Pocket-friendly
Can convert tape to mp3 format
Cons
No FM radio
A few users complained about its sound quality
---
6. Panasonic RQ-E27V Portable Cassette Player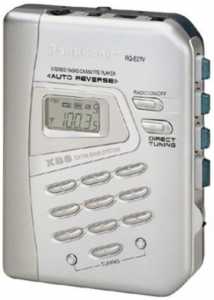 Panasonic is one of the leading brands and producers of high-quality music players. The RQ-E27V portable cassette player is another high-quality device from Panasonic that flexes the brand's muscle on creativity, and quality. It features durable construction with well-positioned controls for easy access.
It comes with a digitalized AM and FM radio with an Extra-Bass system for rich, deep lows so you can enjoy quality sound from your favorite FM radio station or cassette tape playback. The portable stereo cassette player comes with an auto-reverse feature and comes with a quality headphone so you can enjoy your music and radio stations anywhere you go.
The unit is powered by 1 x AA battery and includes an LCD screen to indicate its battery level so you can know when you are running low.
Pros
LCD screen to indicate battery level
Quality sound production with rich bass
Includes digitalized AM/FM radio
Durable, compact, and attractive design
Auto-reverse feature
Comes with belt clip and headphone
Cons
The tuner is not very powerful
If you want a high-quality portable cassette player with AM/FM radio and quality sound production without breaking your bank, the Panasonic RQ-E27V is perfect for you!
---
7. Sony WM-FS222 S2 Sports Walkman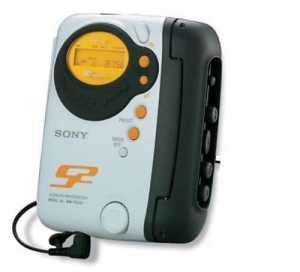 If you are looking for the top of the line portable cassette player with AM/FM radio to listen to your favorite vintage music, and radio stations, then the Sony WM-FS222 S2 is for you. Sony is a leader in the world of high-quality audio device production and their offering, the Sony WM-FS222 S2 truly gives most high-quality cassette player out there on the market a run for their money. It comes with a durable and ergonomic design with accurately placed controls for easy access.
It comes with AM/FM radio that is digitally synthesized as well as weather and TV band reception; this allows you to listen to your favorite radio stations and TV channels with great reception. It comes with Mega Bass function for quality sound production and the Automatic Volume Limiter System that guard against an inadvertent increase in volume.
There is also an anti-rolling mechanism to reduce distortion and a water-resistant seal that provides protection by preventing the entry of dirt, moisture, and water.
The unit is powered by 1 x AA battery which offers an impressive 50 hours of listening to FM radio and 32 hours of continuous music playback. The unit also includes an LCD screen to indicate its battery level so you can know when you need to replace the battery.
Pros
LCD screen to indicate battery level
High-quality sound production with rich bass and minimal distortion
Impressive battery life
Resistant to dirt, moisture, and water
Includes TV, and AM/FM radio with excellent reception
Durable
Comes with belt clip and headphone
If you are looking for the best portable cassette player with quality sound production and a nice AM/FM radio reception that will really last, the Sony WM-FS222 S2 is your best bet!
---
8. Philips AQ6581 Stereo Radio Cassette Player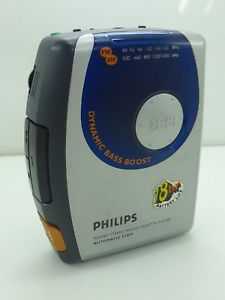 The Philips AQ6581 is one of the best audio devices to reckon with when it comes to finding the best portable cassette player. The player features a durable plastic construction that guarantees many years of use. It comes with an inbuilt AM/FM radio tuner, so you can select from a wide variety of music, talk and radio programming.
The stereo cassette player also comes with automatic stop function as well as the Dynamic Bass Boost feature for rich and quality sound production. This means that you can enjoy crisp sound with a powerful bass as you get lost in your old cassette tape collections and mixes.
Pros
Quality sound production with Dynamic Bass Boost system
Good battery life
inbuilt AM/FM radio
Durable
Automatic stop
Cons
The bass production is not the best
The Philips AQ6581 portable stereo cassette player is easy to use and might be your best way to go if you want the best portable cassette player with quality sound production and a good AM/FM radio reception.
---
9. Panasonic RQ-L31 – Best Portable Cassette Player Recorder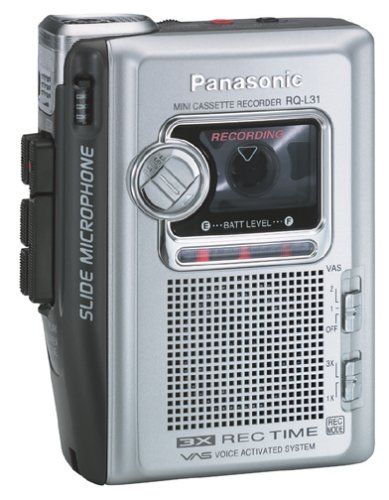 This model is presented with a natural and serious design, and it focuses its utility towards tape recording mostly.
It is quite compact, almost the same size of the cassette. It counts with a voice an activation system to save up your tape's space and a really clean sound in the built-in front speaker which allows you to check your recordings easily.
The recording feature works in two speeds, one that fits better for long recordings with cleaner quality and another that is better for quick recordings, like memos, voice notes and such and includes a highly sensitive microphone to give you an even better tape content output.
About its energy consumption, it works for up to 25 hours with standard AA batteries in for both recording and playback.
This is one of best Panasonic portable cassette player that we tested.
Pros
Awesome for recording.
Voice sensitive system saves tape.
Nice audio output.
Cons
Too expensive if you are not recording.
This model counts with a good quality audio output, but it is not the first option and a cassette player since it is quite expensive and focuses on recording more than playing.
---
10. Sony TCM 400DV – Best Cassette Recorder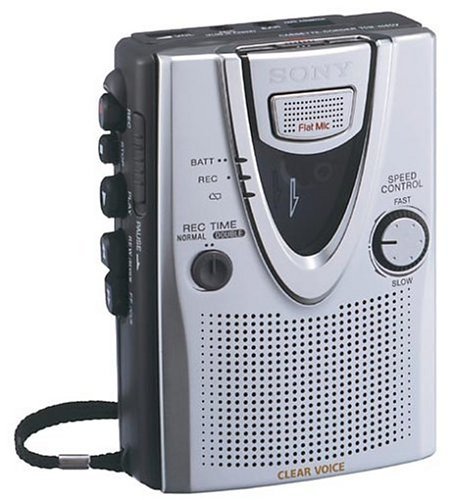 With a standard design, Sony offers this cool and well-made voice recorder with cassette player. Just as our last item, this one is made especially for recording.
It counts with special recording features such as "quick review" which allows you to check the last recorded section of your tape and maybe rewrite, and "voice activation" system which guarantees that the tape starts recording once you start talking and stops as soon as you do.
This way, the Sony TCM 400DV saves up your space while it's built in microphone guarantees some awesome recording quality.
As you could imagine, Sony wouldn't step out from the sound quality when it comes to playing back your tapes, producing your tape's content as clear as water.
This device's last for about 30 hours with a set of two AA batteries and keeps quality in both playing and recording, yet it doesn't count with special recording features such as bass or style changes.
Pros
Long battery life.
Awesomely clean recording.
Cool and clean playback.
With affordable price and good recording and playing function. This model will be the first choice when you don't want to break your budget.
Portable Cassette Player Buyer's Guide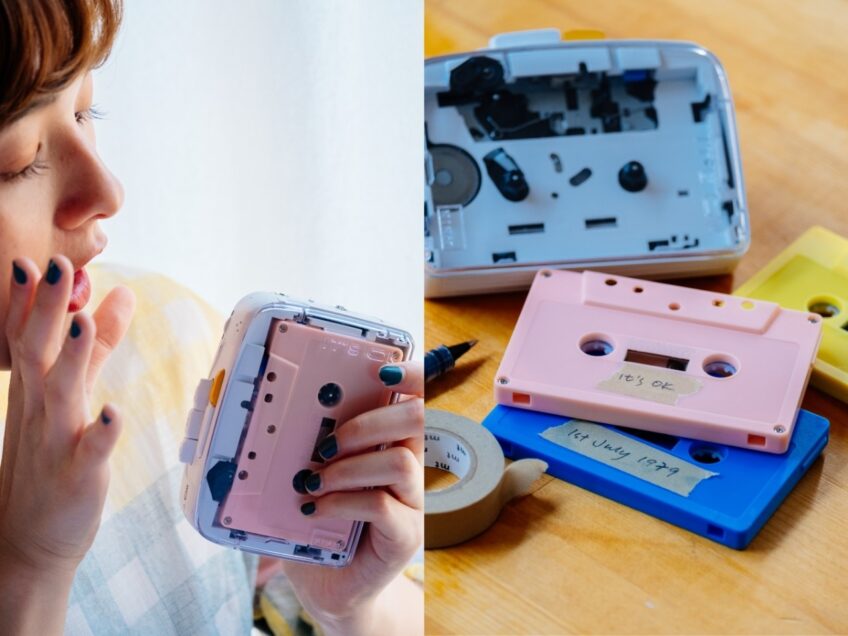 Why keep going with cassette tapes?
Nowadays, music is the easiest thing to carry around.
Since early 90's the industry worked its back off to make this happen, passing through CD's and MP3 formats, transforming music into something basically intangible.
But in these late years this has changed, simpler formats like I-tunes and MP3 files can't be held in your hands and therefore are less valuable to the fans.
That's why many artists and music enthusiasts have been showing a lot of love towards old formats in the past few years, a trend that is far away from disappearing.
While Vinyl records covered most of this "retro" market, CD's and Cassettes are cheaper and easier to carry around making them a nice option if you are into a low-bucket, yet valuable collection.
CD formats are an awesome option as well, are still cheaper than vinyl, easier to find and with a wide a range of players. You can play it on any portable cd player. Check our guide for this device at here: top 10 best portable cd players from expert's review.
But CD collections can be pretty common and additionally, cassette tapes degradation changes the sound, making it often warmer and the equipment used is 100% music-oriented, focusing on the sound's quality.
That's the main point, while vinyl is harder to carry around and newer formats are played in devices that focus in commodity instead of sound quality most of the time.
Your cassette tapes stay in the very middle, giving you a fresh 80's feeling with nice mobility and awesome sound quality, and if you want higher quality while reducing some portability you can choose a powerful Boombox to keep around.
Features to look for when selecting a cassette player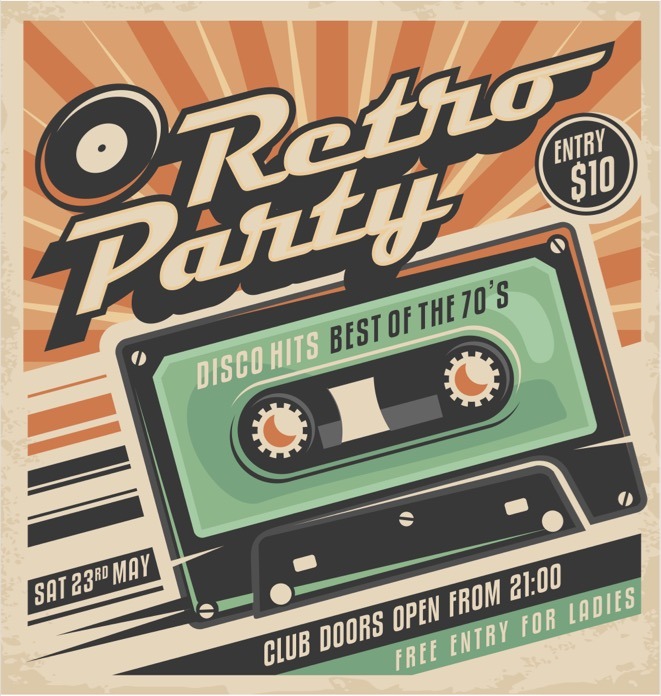 Now, to actually make use of your cassette tapes you will need a proper player and as we said, here you will find out how to pick the best portable one to fit your needs. 
Extra functions and tech
Besides the possibility of listening to your awesome tape collection, there are some extra functions you should consider having in your new Walkman.
Recording functions:  While having your own original cassettes rocks, there is the possibility of making mix tapes, voice recording and more. Imagine the possibilities, you are in the Karaoke and there is a song that you want to have forever.
Converting functions: Going back in time with your tapes is cool, but having a converter will help you maintain your tapes safer, and also you can transform your recordings into newer formats which make things easier.
Sound features: Most cassette record players will skip this, especially those with a lot of functions, recorder, and stuff, but having a bass and style control is something that can improve your experience.
Sound quality: You might already imagine, but get the best sound output quality possible. One of the best things about cassettes is that using them changes their sound with the time which makes them feel a bit smooth, but this also lowers down the quality a little.
Battery life: Most Walkman will use AA batteries, but you must aim to 20-25 hours of music, more if possible.
Material
Most portable cassette players are made of plastic, maybe with some metal lining, just find one that doesn't feel like a toy and has a nice warranty.
So, as materials don't vary too much, focus on the manufacturing quality. This is the way you avoid having to buy a new one after a month or so.
Budget
There are not as many options on the market for Cassette players as there are for other formats, but the budgets still vary.
Remember the toy problem we mentioned above? Well stay away from the 10$ Walkman, most items from 40$ to 200$ will do a nice job and won't end up in your trash can.
How Does A Portable Cassette Player Work?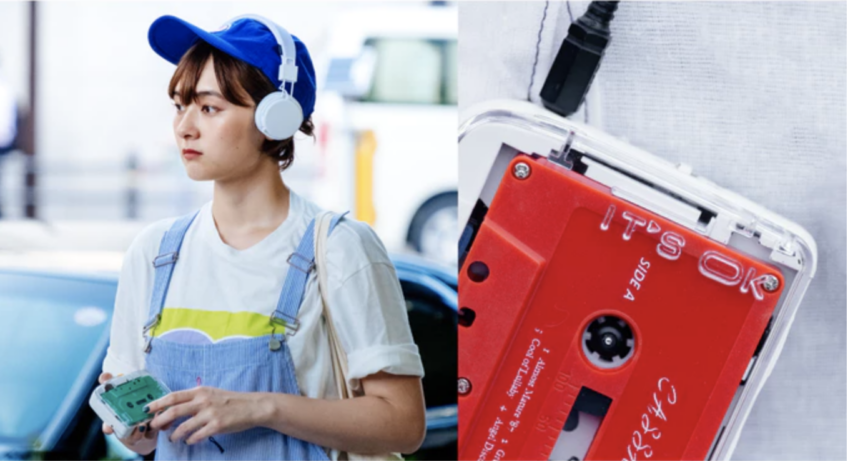 Magnetic Coating
Cassette players can function as a recording unit (to record sound on the tape) or as Playback (to play or reproduce the sound that has been stored on the magnetic tape). These two functions (recording and playback) depend on the magnetic coating that is found on the plastic tape roll of a standard cassette. It is important to have a clear understanding of the magnetic coating to know how a portable cassette player works.
The magnetic coating can be manufactured with various material but the most popular material used is the Ferric oxide. This material helps to carry electromagnetic signals or information that can be overwritten several times to the play-head.
A typical cassette with magnetic tape rolls holds 4 electromagnetic signals which are close to each other and run along the full length of the magnetic tape. During playback, the cassette player will read only two of the 4 signal on the tape at the same time. This is because each pair of the signals contains the right and left stereo signals for one side of the magnetic cassette tape.
When you turn the cassette to the other side (from side A to side B), the play-head, which reads the tape will now be able to access  the other pair of signals.
Mechanism to Read Information
The recording and playback function (that involves reading the magnetic tape) occur on the length of the magnetic tape that contacts the play-head. The play-head is a mechanism that helps to read the information on a cassette tape, and it is built into the system of all magnetic cassette players. With the help of the spindles in a cassette player, as well as the guide rollers contained in the cassette, the magnetic tape will be stretched and laid flat on the play-head.
The capstan in the cassette does not only hold the tape but also ensure that the tape moves at a constant speed (of about 1.875 per second) past the play-head. The soft pressure pad under the tape ensures the right amount of friction  between the play-head and the tape.
There are two small electromagnets within the play-head, which does the work of recording sounds onto the two electromagnetic pair of the tape or reading and playing the already recorded signals based on your settings. Some cassette players include a secondary play head that helps to erase the existing information on tape before another signal is recorded on the tape by the main electromagnetic head.
As the tape passes through the play-head, it decodes the signal and transfers it in the form of electrical energy to the player's internal component where it is being amplified. It is then transferred to the earbuds that allow you to listen to the sounds.
How to Manually Rewind a Cassette Tape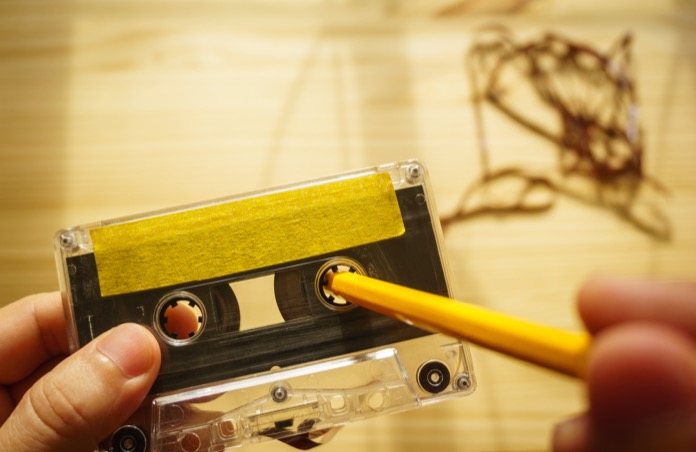 Some portable cassette players have no rewind function, so if yours do not come with this feature, will you be able to rewind your cassette tape? Of course, yes! You can do that manually, but how? Relax, I will provide an answer to your question shortly.
First of all, get yourself a pencil or a pen with an octagonal or hexagonal shape (6 to 8 respective sides) when you look at it on its end. A cylindrically shaped pencil will not work.
Locate the reel holes of the cassette and insert the pen or pencil into it
rotate the reel slowly, make sure the pen contacts the spokes properly (the pen should contact the spoke well if you use the right pen).
If you inserted the pen or pencil in the right reel-hole, rotate anti-clockwise. If it is inserted to the left, reel-hole, rotate it clockwise.
When you follow the step carefully, you will have your cassette tape re-wounded in no time at all.
How To Fix Portable Cassette Player Squeaky Sound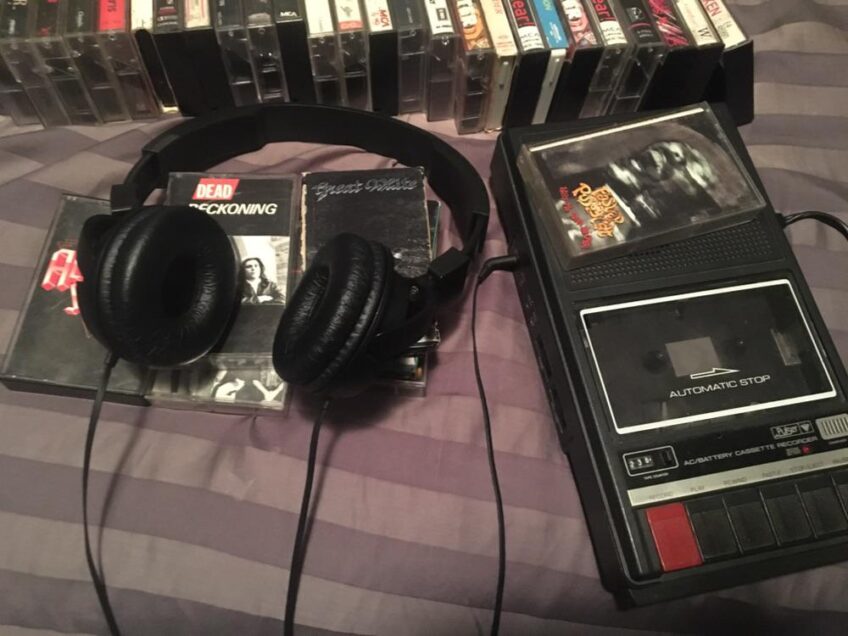 The squeaky sound may be as a result of dirty play-head or excessive friction between the tapes.
To clean the play-head, you will need a cotton swab and rubbing alcohol (isopropyl alcohol) or methylated spirit.
Follow the steps below to clean the play-head of your cassette player
Stop any playing music and open the cassette door to eject the cassette.
Dip the cotton swab into the isopropyl alcohol or methylated spirit and locate the play-head of your (You may have to press the play button to lower the play-head).
Clean the play-head by rubbing the tip of the cotton swab on it vertically and horizontally.
Dip a new piece of a cotton swab into the rubbing alcohol and repeat step 3.
Clean all the pins, guides and rollers the same way you cleaned the play-head. You are now good to go!
If the magnetic tape is sticky or has too much friction between it, you may need to apply cassette tape lubricant like the one here.
What is The Best Portable Cassette Player?
Looking for the new portable cassette player or Walkman out there is not an easy path, but it isn't impossible either. While checking the battery life and sound quality as our most important features, having some recording elements help a lot. Although, you should keep in mind that it is dangerous and you can overwrite by mistake some important piece of your collection if you are not aware-.
Our top product for this list is the Sony WM-FX195. While being one of the most expensive items on our list, it has an awesome coverage and warranty, the best audio output we could find and some extra features to improve your music experience.
If you are running a low bucket though, you can rely on the Jaras JJ-2016 which covers a lot of features while presenting a nice sound quality and good converting software to save out your recordings and collection.